Assessment
Mexico City's Kickoff Workshop – 19 March 2015
On March 19, 2015, Mexico City held a workshop to mark the kickoff of BEA activities. One hundred policymakers, business leaders, and representatives of civil society joined to establish a joint vision and begin developing an action plan to implement a building energy code and complete energy retrofits on public buildings. The kick-off workshop received support from high-level officials in both national and local government, showing the importance of strong government leadership to reinforce the importance of building efficiency and integrate energy efficiency actions in the local political agenda. The local government has integrated the BEA project into Mexico City's Climate Action Program as an important element in achieving their climate change goals.
The workshop in Mexico City successfully motivated stakeholders from the public and private sectors, laying the foundation for the local partnership in Mexico City. The partnership comprises an advisory group and four multi-stakeholder working groups on: (1) local building energy codes, (2) finance, (3) retrofits, and (4) administrative actions. The main responsibility of the advisory group is to provide input and advice to ongoing BEA activities, balancing short term and long term goals. Each working group is led by two co-chairs, one representing the Mexico City government and the second from a partner business or non-profit organization. Each thematic working group is responsible for developing goals, recommending specific actions for the government to pursue, and providing technical support to decide and implement a locally-appropriate work plan for its action area.
Kickoff Workshop Summary Report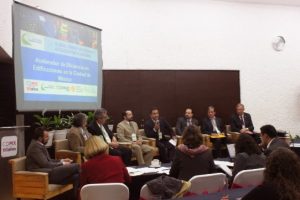 Development
Working Groups met several times between March and September 2015 to discuss and finalize their recommendations to the government, which included workstreams on energy codes and building retrofits. In October, BEA partners presented their recommendations to the Mexico City's Secretary of Environment. The Ministry of Environment approved the recommendations, and at the first-ever "Buildings Day" at COP21, on 3 December 2015, Mexico City Mayor Mancera announced a plan for energy code implementation in Mexico City.
Implementation
A series of events and workshops between January and October 2016 moved forward Mexico City's work plan under the BEA. Mexico's national Energy Conservation Code (building energy code) was formally announced in March 2016, paving the way for the adaptation and adoption of a new building energy code in Mexico City in June 2016. An implementation training was held in October 2016 for key government stakeholders from Mexico City on the fundamentals of implementing a building energy code as a first step for helping these municipalities implement a related policy in their jurisdictions. In the retrofits work stream, Mexico City published a procurement tender for energy audits of four public buildings in October 2016. The audits were completed in December 2016, and the retrofits are expected to begin in 2017. Simultaneously the city and its BEA partners have begun to develop a "buildings challenge", which will encourage owners of both public and private large buildings to track their energy use, set targets for improvement and take actions through capital investments or improvements in operations.