Assessment 
Rajkot's Kickoff Workshop – 18 November 2016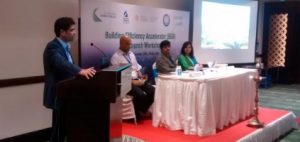 Rajkot's BEA kickoff workshop on 18 November 2016 emphasized the city's commitment to pursue building efficiency actions while identifying and engaging a diverse set of stakeholders who are critical to the effective implementation of building efficiency actions. The outcome of the workshop will help to develop a shared vision regarding the importance of building efficiency for achieving the community's broader goals.
Kickoff Workshop Summary Report
ICLEI South Asia News Story: BEA Kickoff Workshop
Sha Yu visit to Rajkot – 24 February 2017
Professor Sha Yu from Pacific Northwest National Laboratory (PNNL) visited Rajkot under the BEA project. During her visit she met Rajkot Municipal Corporation (RMC) Commissioner Mr. Pani along with other city engineer staff to understand Rajkot's situation and needs along with strategies to scale up efforts in building energy efficiency. The outcome of this meeting will help in the preparation of a Technical Guidebook on the implementation of green building policy measures for Rajkot.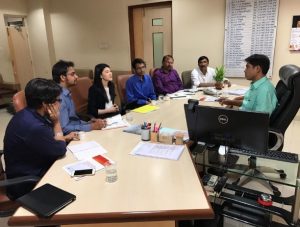 BEA Planning Workshop – 16 March 2017 
The Workshop emphasized the following:
Discussion on the 18-month BEA work plan for Rajkot city. The work plan highlights the specific goals, targets and methods for implementing the City's goals on a policy, project and MRV mechanism under the BEA program. The goals and timelines for various activities were discussed and finalized through an interactive session with all the stakeholders.
The stakeholders scrutinized and gave suggestions on implementation of draft Green Buildings policy measures for Rajkot. The suggestions and recommendations of the stakeholders will be integrated into a Technical Guidebook on policy along with other traditional, national & international green building norms.
A technical training session was conducted by the India Green Building Council (IGBC) to create awareness on green buildings among RMC officials, builders, developers, architects, civil engineers, manufacturers, education and finance institutions that will guide them in decision making on energy efficiency in the building sector.